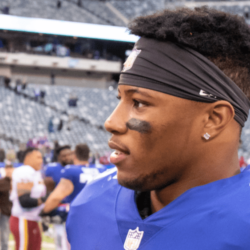 NY Giants running back Saquon Barkley left Sunday's game against the Dallas Cowboys in the first quarter, after being ruled out with an ankle injury after colliding with Cowboys defender Jourdan Lewis on an overthrow by Daniel Jones, Lewis stepped on Barkley's foot and caused the running back to grab his ankle in pain, forcing him to hobble off the field and eventually being carted to the locker room from the sidelines. Barkley has ran for 186 yards on 52 carries with two touchdowns and 14 receptions for 130 yards with a touchdown over four games this season. He played just two games in the 2020 season after tearing his ACL.
In addition, QB Daniel Jones took a helmet-to-helmet hit from LB Jabril Cox in the second quarter on a third and goal. Jones scrambled to his left and collided with Cox at the goal line; after struggling to stand up, he left the game immediately.   Backup QB Mike Glennon came in as the replacement, as Jones was carted to the locker room to further evaluate his injury. He was later ruled out with a concussion. Lastly, WR Kenny Golladay was also ruled out on Sunday with a knee injury following halftime.
The Giants wound up with a 44-20 to Dallas on Sunday. New York are now without seven of their 11 Week 1 offensive starters: aside from Jones, Barkley, and Golladay, left tackle Andrew Thomas (foot), wide receiver Sterling Shepard (hamstring), left guard Shane Lemieux (knee) and center Nick Gates (leg) are all out of play currently.
Editorial credit: Arturo Holmes / Shutterstock.com